My body went viral twice. This is how it felt
Published 4th November 2020
The first time my body went viral, it was a photograph I posted on my Instagram. I'm wearing a blue swimsuit and I'm standing with one hand on my hip striking a pose on the beach in Havana, Cuba. I certainly didn't expect the number of reposts and neither did I expect people commenting in my inbox with words like "Brave," "Inspiring," and "Confident." As far as I was concerned, I was just wearing beach-appropriate clothing while on holiday. Why is it that me documenting these seemingly normal activities conjure such loaded words?
Click here for full story
Shamel Pitts Asks Important Questions of Dance's Elite Institutions
By Wana Udobang • 09/29/20 8:00am
In choreographer Shamel Pitts' new art film, Lake Of Red, projected images bathe his body and surroundings in layers of light, as the Brooklyn native is seen performing a series of repeated movements while a monotone voice recites lyrical poetry. Unfolding like a stream of consciousness, this latest work was the product of a collaborative effort by the artist collective Pitts founded called Tribe, and it gained entry into this year's Cannes Short Film Festival.
click here for full story
In Conversation with Victor Ehikhamenor
Victor Ehikhamenor will turn almost anything into art. From perforated paper and used bottles to rosary beads and plastic sunglasses. He is one of Nigeria's most prolific artists. But he says the art world needs to recognise that he is so much more than that. Wana Udobang brings us his story from Lagos.
Phoebe Boswell's Delicately-Rendered Portraits Ask Us to Care for One Another
By Wana Udobang • 07/12/20 8:00am
At the Lancy-Bachet train station in Geneva, 30 meter mega screens line both platforms. The work recently unveiled is a series of filmed portraits that takes the shape of two-stop motion loops. In the work, each pencil-drawn face begins to appear as the hand of an artist can be seen bringing the portrait to life. The portraits start to blink, and look around. Once the images are realised, they are erased and replaced with words chosen by the subjects. This is Kenyan-British artist Phoebe Boswell's latest work to go on view, called Platform, commissioned as part of Mire, a public art programme in Geneva.
In these dark, polarizing and violent times, Boswell is inviting the viewer to look. This seemingly quotidian activity of seeing people is something she believes many of us have completely forgotten how to do.
"I see the simplicity in exploring and celebrating the human gestures of people who we may never meet, who may indeed fear each other or what this other may represent, as a generous and radical proposition." Boswell tells Observer.
Click here for full story
10 Years After Her Hit Novel Debuted, Lola Shoneyin Knows the Netflix Series Will Resonate
By Wana Udobang • 06/29/20 8:00am
When Nexflix announced a series adaptation of Lola Shoneyin's award winning novel, The Secret Lives of Baba Segi's Wives, it didn't take long for twitter fans to chime in with casting suggestions best suited to portray some of their favorite characters from the book. It has been 10 years since the U.S. debut of Shoneyin's humorous and eye opening novel about a polygamous family in Nigeria. The novel isn't new to adaptations; since it's release it has enjoyed a life as a one woman show, a stage play, a BBC Radio play and a graphic novel.
"It's a wonderful feeling, that the book is still resonating and still finding new audiences." Shoneyin tells Observer. "It's like having a prized piece of play dough and every time somebody takes it from you, they mould it into a masterpiece."
Click here for full story
Global nomad
In 2019, Jessica Nabongo became the first woman of African descent to travel to every country on Earth. So where does she go from here?
Wana Udobang
Ask Jessica Nabongo what she has learned on her global travels, and she'll rattle off a list of life skills: self-reliance, empathy, confidence, resilience, tolerance, a heightened appreciation for beauty and a sense of her own value – quite literally.

"In South Sudan, I spent time in a cattle camp," she says. "There was this guy and I asked him how many heads of cattle I might be worth and he said, 'Thirty, at most,' which isn't a lot. Then I asked him how many cows he had, and he said, 'That's like asking me how much money I have in the bank.' There were just so many characters in South Sudan – that was one of my favourite trips for sure."
This is saying something, given that Nabongo – a US-based travel writer, photographer, entrepreneur and "geography nerd" – is credited with being the first woman of African descent to visit every country in the world.
Click here for full story
TURNING THE TIDE: A CONVERSATION WITH TOPE FOLARIN
In a time of epic sagas, grand expositions, multi-generational chronicles, and polyphonic characters, Tope Folarin's writing has remained intimate, intricate, and inviting. Folarin is always able to distill his plot and characters into a narrative that is quiet and affecting.
His debut novel, A Particular Kind of Black Man, begins as a coming-of-age story of Tunde Akinola, a Nigerian American raised in Utah struggling with his cultural identity amidst the backdrop of his family's own challenges with assimilation. The novel is as devastating as it is joyful and through changing perspectives, tender prose dotted with pop culture nostalgia, the result becomes a moving portrait of memory, love, longing, and identity construction over time.
Click here for full story
…..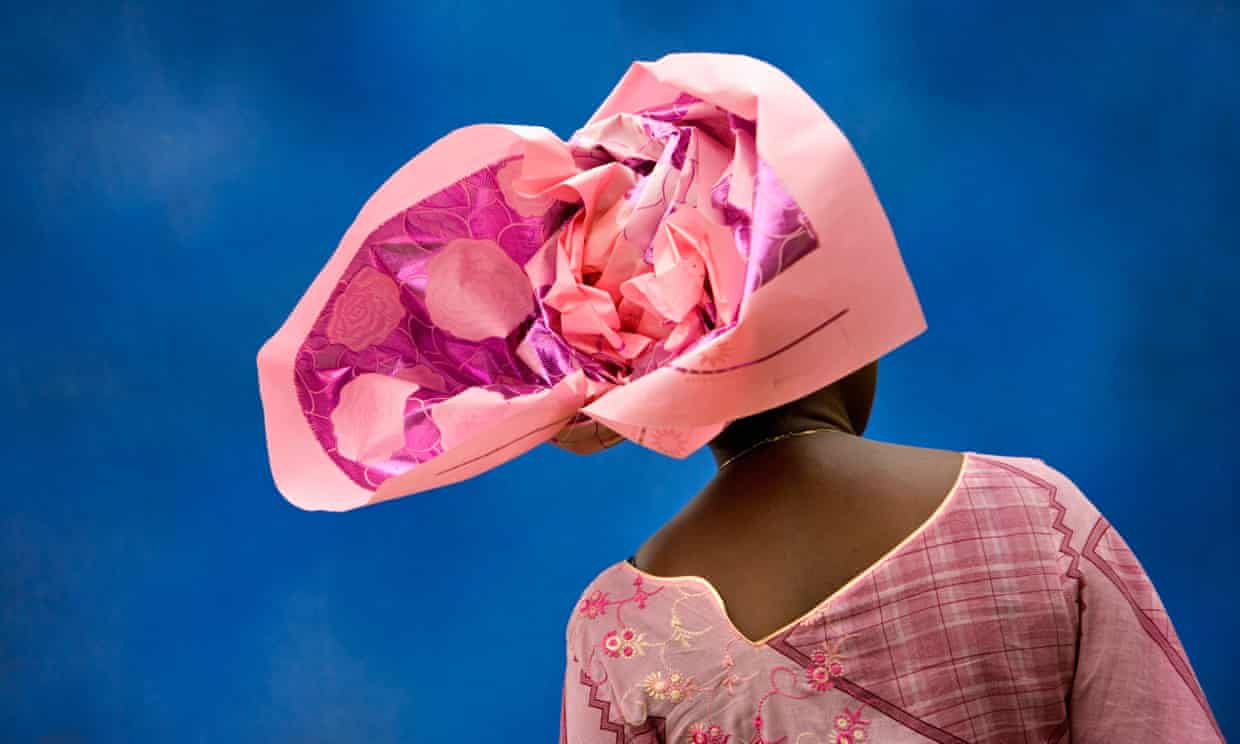 'Men said we were immoral': the aphrodisiacs challenging taboos
Nigeria's traditional 'Kayan Mata' recipes have grown into a booming industry that's empowering women to be more open about sex
When Amra Mansur was working as a makeup artist in Abuja, while she studied law, she would overhear conversations between would-be brides and older relatives about how to please their men in the bedroom.
The older, mostly female relatives would recite aphrodisiac recipes that involved ingredients like fenugreek, dates, honey, watermelon and the fruit silky kola.
After finishing her studies, Mansur decided she didn't want to be a lawyer, and the bridal makeup industry was getting too crowded. "I needed to dive into something new, and then I thought – why not Kayan Mata?"
"Kayan Mata" refers to the aphrodisiacs made of herbs, roots, spices, seeds and fruit that have been used for centuries by women from northern Nigeria. Though they were originally used to prepare brides for marriage, to ensure a healthy sex life, the aphrodisiacs are becoming increasingly popular among all women across the country. Recipes are passed down from generation to generation.
Click here for full story

Axa Shareen It's just fashion to most people, they have no idea of its significance
Axa Shareen is a female Muslim tattoo artist who lives and works in London. Wana Udobang profiles her unique creative mind, how her heritage informs her art and the many missions she takes on.
Click here for full story
In Conversation with Rahima Gambo
The Purpose of a Broader Narrative
She started out as a journalist, but as a multimedia artist Rahima Gambo has expanded her range of expression. Her work now reaches from film projects to photo series that reflect the social situation in her native country, Nigeria. With C& author Wana Udobang, she speaks about education, her relationship with nature, and Boko Haram.
Click here for full story
Growing up in Lagos, Nigeria, my mother's hair salon housed many vivid memories. I recall how my eyes would tear up from the sting of menthol as I greased scalps. I remember my arms cramping from prepping hair extensions, or worse, undoing micro braids. (This was the 1990s. These days, we are more into Peruvian weaves, wigs, and crochet braids.)
I also remember eavesdropping on women swapping recommendations for skin lightening products. Some women gave directions to beauticians who were known for mixing special creams. Others would exchange homemade concoctions, like how combining certain products with moisturizer could mitigate the harshness of the chemicals, or how a certain egg-based shampoo made for effective lightening results. Sometimes code words like skin toning, brightening, or glowing would be used in place of the pejorative "bleaching."
Click here for full story

In Conversation with Zina Saro Wiwa
Re-imagining her World
By Wana Udobang
Zina Saro Wiwa has many talents. Working between New York and Port Harcourt – where she set up her Boy's Quarters Project Space – she has shifted roles from BBC journalist to filmmaker to artist and curator. With C& she speaks about the current Boy's Quarters Project Space exhibition, which puts environmentalism and feminism into dialogue. And she explains how activism and re-imagining her environment have influenced her artistic approach.
Click here for full story

Nigerian Hospitals Are Locking Up Women Unable to Pay Their Childbirth Bills
Fashion designer Folake Oduyoye died in custody in 2016 after her hospital refused to discharge her until she paid her outstanding bill. Her death is part of a global phenomenon known as hospital detention.
Before her life changed irrevocably, Folake Oduyoye was an ordinary woman, working as a fashion designer in the bustling city of Lagos, Nigeria. She loved her job, her husband Adeyemi Oduyoye recalls. He would plead with her not to work too late, so that they could leave at the same time each day and head home together to take care of their three young children. "I used to tell her, do your best and leave the rest until tomorrow," Adeyemi says, smiling a little.
But when Folake went to hospital to deliver their fourth child in late August of 2014, the familiar rhythm of their lives was suddenly upended. She developed an infection after her C-section and was referred to a government facility, the Lagos University Teaching Hospital (LUTH), for emergency care. Her lengthy time in ICU racked up a fee of almost 1.4 million Naira (approx. $4,000) that became impossible for her and her husband to pay. When it was time for her to be discharged, Adeyemi alleges that the hospital refused to let her go.
Click here for full story
Peace Onuoha remembers the 6 April 2016 with conflicted emotions. It was the day she lost her daughter, and the day that doctors saved her life. She sits inside the mustard-coloured compound that is Nyanya General Hospital, on the outskirts of Abuja, Nigeria, and remembers how she was rushed here when blood began to saturate her clothes.
"They tried all day, but the bleeding refused to stop," Onuoha says. "When they brought out the baby – my fair, beautiful baby – just like that, I lost it," she says, quietly. Her child died shortly after birth. But as her bleeding worsened, the doctors gave her an emergency injection containing a drug called tranexamic acid, which slowed her haemorrhage, and Onuoha survived.
When Onuoha gave birth, tranexamic acid was being tested across Nigeria as part of the global WOMAN (World Maternal Antifibrinolytic) trial. The drug is already widely used to stem bleeding in trauma patients and during surgery. But this trial, launched in 2010 in 21 countries by researchers at the London School of Hygiene and Tropical Medicine (LSHTM), evaluated the effectiveness of the drug in childbirth, alongside other treatments for reducing postpartum haemorrhage.
Click
here
for full story
Image by Nicole Sobecki/AFP/Getty Images
Silence about C-sections: Nigeria has some of the highest infant and maternal mortality rates in the world, in part, because of taboos over Caesarean sections
Taboos about birthing choices mean thousands of women and babies in Nigeria die unnecessarily. Wana Udobang speaks to a doctor who is campaigning for change
MATERNAL AND INFANT mortality rates in Nigeria are becoming a national scandal. Bill Gates has dubbed the country one of the most dangerous places in the world to have a baby, and it will be an issue in next year's presidential election.
One of the reasons for the high rates of maternal and infant death here is the taboo surrounding birth. Caesarean section rates are very low because of the stigma attached to not having a natural birth. It is also a society which does not talk about the dangers of giving birth, and still isn't investing enough money in high-quality maternity services.
C-sections, if performed properly in clean hospitals, are a way to drive down maternal mortality. A rate of 10% or higher is needed to start having an effect, but a major study published in The Lancet in 2018 found that in west and central African regions, C-sections were used in only 4.1% of births.
For most Nigerian women, marriage is a prerequisite, and having children is a rite of passage. When you are unable to give birth conventionally, it can be seen as an indictment on your womanhood, often provoking the labels "weak" and "lazy".
Many women who require C-sections during childbirth will look for hospitals or midwives, or even those who are untrained, to assist with vaginal deliveries, regardless of the risk posed to their lives and that of their unborn babies.
Click here for full story
#MeToo Anniversary: Women Around the World Speak on Its Impact
As the movement marks its first year of existence, we asked women how things have changed—or not—in their respective countries.
Wana Udobang, Nigeria
When one of my previous employers once remarked that "your body is the kind of body a man will like to bury himself inside," my response was a disconcerting giggle as I maintained a sizeable distance to avoid being groped for further illustration. I needed to not make the situation uncomfortable less I be labeled overly sensitive and avoid any future victimization.Whether it is a childhood littered with molestation by older relatives or college professors threatening to deduct your grades for refusing their sexual advances, sexual assault and the constant threat to women's bodies have always been a steady part of our Nigerian normalcy.
Click here for full story

In Nigeria, where mental health is often considered a 'Western' issue, people are turning to one another for help
In Nigeria, where I'm from, mental health is a topic still spoken about in hushed tones. Even though the country's Federal Neuro Psychiatric Hospital estimates that 21 million Nigerians have mental health illnesses — excluding the 30 million cases that go unreported — the topic of mental health is still decidedly taboo in Nigeria. When mental health is discussed, it is often still relegated to images of stereotypes — disturbed individuals wandering the streets, soliloquizing nonsense.
For Hauwa Ojeifo, a 25-year-old investment banker turned life coach and mental health advocate, none of her symptoms mimicked these stereotypes. Ojeifo, who lives in the capital city of Lagos, recalls having constant mood swings as a child. "For as long as I can really remember, people would say, it's just mood swings, that's just how she is. You start to buy it," Ojeifo tells Yahoo Lifestyle. "But things begin to happen and your body begins to react in some certain ways and you realize this is beyond how I am. It shows how powerful the brain is. It can be sick and still denying it"
You can click here for the full story
The Women Selling Beauty Secrets From a Region Best Known for Boko Haram
The beauty practices of Nigeria's north are finding a new home in the country's big cities, and providing an economic alternative for women from the conflict-torn region.
ABUJA, NIGERIA – Masturah Musa kneads a ball of halawa with her fingers. As it begins to soften, she spreads the sticky caramel across her customer's leg, then pulls it upward. She repeats the motion all over the client's body until the woman is left with smooth, hairless skin.
Halawa is a hair-removal wax made from melted sugar. Musa adds honey and lime to her mix the way her grandmother taught her. Traditional beauty rituals like halawa, and dilke – a body scrub made with potatoes, cloves, turmeric and oils – as well as durkhaan, a smoke bath made from sandalwood to tighten skin, have been staples in the lives of women in northern Nigeria for countless years.
Click here for full story
HOW NIGERIA'S MILLENNIAL PRIESTESS IS REVITALIZING SPIRITUALITY
Omitonade Ifawemimo presents as a modern-day sage, with gleaming eyes, a petite frame — and wisdom to spare. She is in fact a 20-something Orisha priestess, with an easy smile and tightly knotted hair. And she has made it her mission to teach and preserve the Orisha and Ifa spiritual practices, which are indigenous to the Yoruba people of Nigeria and adjoining parts of Togo and Benin.
"When you see her in person, she is this tiny presence," says journalist and culture historian Molara Wood. "She is not this image of an intimidating traditional-religion adherent that a lot of Nigerians have."
Ifawemimo's journey started at the age of 5 when she was initiated into the Orisha traditions by her parents, and by 15 she found herself dining with elders and mastering the art and science of divination, chanting and rituals. At 20, through a combination of study, practice and heeding the spiritual call, she earned her place as a priestess.
Click here for full story

'We are brought up to think suffering this violence is OK': domestic abuse in Nigeria
Dr Perpetua Mbanefo was just getting ready to drive to her new internship in Lagos when her husband suddenly got upset, seizing her car keys and medical licence. "He said I am becoming too free. Then I asked him for my things back and he got very upset, dragged me and threatened to stab me with a broken bottle."
Her voice shakes as she talks. The next morning, again as she was preparing for work, he stopped her from leaving the house. "He said I am not going anywhere, [that] he owns me. He started calling me names, like ashewo [slut], and said that I am sleeping with people in my workplace. I didn't pay attention to that because none of it was true. He has told me that if he decides to lock me up, nobody is going to come and ask because it is a family issue."
click here for the full story

'It's like millions of ants are biting my bones' – fighting sickle cell disease in Nigeria
Anight out on Toyin Oshinowo's 21st birthday wasn't quite the coming of age story she had hoped. Just five minutes after having sex for the first time, she found herself hauled into the back of an ambulance en route to hospital with a sickle cell crisis.
"I look at this guy at the hospital and he looks panicky and after that we never really spoke again. I probably scared him off," Oshinowo recounts with squeaky giggles, sprawled across the couch in her bedroom.
This was the first of Oshinowo's many heartbreaks as a person living with sickle cell disease – an inherited red blood cell disorder that causes unusually shaped red blood cells – and can be fatal. These sickle shaped cells can stick to blood vessel walls blocking the flow of oxygen to organs, causing excruciating pain episodes like the one that landed Oshinowo in hospital on her 21st birthday. As well as causing painful episodes, known as crises, that can last up to a week or more, sufferers of sickle cell are also more vulnerable to infections and anaemia
Click here for the full article
Image by Andrew Esiebo
'The exorcism was over in 15 minutes but nothing changed' – LGBT life in Nigeria
A pastor spits out prayers as his subject falls to the ground, writhing and contorting after a 30-day fast. Ministers form a circle around the emaciated man and douse him in anointing oil and holy water. When the prayer tsunami ends, a hovering calm ensues. A hologram glides through the man's atrophied body as he springs to his feet, professing his salvation. So goes the standard script for a deliverance session or exorcism in Nigerian film.
Bree, whose name has been changed to protect her identity, said her first deliverance session in 2004 had none of this Nollywood drama.
Click here to read article
Palenquero: The identity behind a language in Colombia
San Basilio de Palenque, Colombia – A warm smile spreads across Juana's face as she attempts to sell me a slice of Yucca cake, a sweetened pastry made with cassava, eggs and condensed milk. She and John Jairo, our tour guide, are talking to one another. Words roll off her tongue and her hands flail as I stare at the apron, in the colours of the Colombian flag, tied over her chequered gypsy skirt.
I listen closely to see if I can identify any of the words they use and match them to a language I am familiar with. It is a weird kind of guessing game I play with myself when I am in Lagos, Nigeria, but there I usually attempt to guess people's ethnicities from the sounds and patterns of the languages they speak.
Click here to read article
In Search Of Champeta | By Wana Udobang | Non-Fiction
I had never heard of Champeta. So when Juliana sent me the reading list for the fellowship, I was intrigued to find that a genre of music had been invented based on some of the music that came out of Nigeria and other parts of Africa. More extraordinary was discovering that this was happening all the way in Colombia, and Nigerians knew nothing about it.
Our connection with the Latin Caribbean has always been our loyal obsession with Telenovelas. Thanks to this, husbands have been known to invest in dual view decoders, and I have almost had my eyebrows waxed off by wondering eyed beauticians.
So as part of my research, I dig out old YouTube videos, but they mostly remind me of francophone pop music I grew up watching and listening to.
Click here to read article
A day in the life of… Lagos' only rape support centre
The Mirabel Centre is not easy to find. It is on the premises of the Lagos State University Teaching Hospital, beside the mosque, I am told. But when I ask a few people for directions, they seem as baffled as to its whereabouts. Eventually, a young doctor escorts me there. And it is nothing like I imagined.
In my mind, I had conjured an image of a semi-detached patch of serenity; the sort of place that might offer at least the little comfort to be found in bricks and mortar. In reality, Lagos' only rape centre is a long, dimly lit corridor lined with tiny rooms. With arms outstretched, you can almost touch each side. And the overall sense is of one of the walls closing in.
Click here to read article
RADIO
Lonely In Lagos
Poet and journalist Wana Udobang travels round her home city, Lagos, speaking to people who are lonely and isolated in Africa's most populous city.
She meets a young gay man who opens up about his feelings ofisolation in the light of strict laws on homosexuality, and meets a group of displaced women who are coming together to combat loneliness in poverty.
She also hears moving stories about the impact of depression and grief on loneliness, and visits a cycling club and an elderly community centre helping people to feel less lonely in this fast-changing city.
Click here to listen to the programme
Suffering and Smiling
A portrait of Nigeria, seen through the eyes of a new generation of writers and poets.
In the first of two programmes spoken word poet Wana Udobang introduces us to Lagos: her home city, a megacity, an economicpowerhouse and, according to its resident writers, the craziest, most congested, most entrepreneurial, hustling, joyful, energetic and creative space in Africa. Fela Kuti captured the essence of Lagos in his song Shuffering and Shmiling'.Click here to listen
'Nigerians find it difficult to buy nudes'
Writer and broadcaster Wana Udobang considers why art that shows nude bodies doesn't sell well in the Nigerian art market.
Click
here
to listen